Trailer for 100 t-shirts
Kiruna konstgille with Kiruna Guidetur and Hotell Kebne presents 100 t-shirts was an art exhibition displayed at Kiruna City Hall from 1-28 of August 2015. About 80 artists and designers, all with some kind of Kiruna connection, participated in the exhibition wich showed over 100 uniquely designed t-shirts.
Magnus Fredriksson at Bortbyting, with the help of Martin Eriksson at TCB i Kiruna AB, for the music, made this trailer for the event, a 20 second stop motion film where (almost) all of the shirts are tried on.
Bortbyting also created designs for the marketing of the event like posters, booklet and marketing t-shirts. you can see the poster, with the exhibition logotype, below: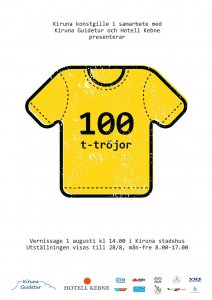 Year: 2015
Client: Kiruna konstgille
Category: Commissioned film