Kiruna festival '17
For the 2017 edition of the Kiruna festival, the idéa was to create a cut-out animated film where the bumble bee flies past flowers revealing the musicians that will perform at this year's festival. The bumble bee was animated on the computer for the most part, while backgrounds were made as a mix of paper and computer graphics.
For each release, there was a short film revealing the artist, and then there was a longer film with all of the main acts.The music is the same as last year, written and performed by Martin Eriksson at TCB i Kiruna AB.
Varsågod, smaka på en riktig Kirunablandning! Bara drygt två veckor kvar nu- vi är laddade!www.kirunafestivalen.com

Opslået af Kirunafestivalen på 12. juni 2017
Festival poster
Also included in the job was the creation of the base illustration of the poster. Artists were later added by Niklas Mattsson at Versal.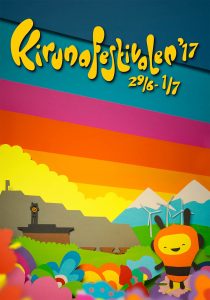 Customer: Kirunafestivalen
Year: 2017
Category: Commissioned film