Kiruna festival ´16
Få 30% rabatt på festivalbiljetten om du köper innan den 31 maj. Vi ses i sommar!

Opslået af Kirunafestivalen på 26. maj 2016
The idéa for the 2016 Kiruna festival commercial was a stop motion animated bumblebee that enters an apartment and flies past pictures of the artists performing at the festival in the form of their promotion photos.
The job consisted of a number of shorter animations, one for each new artist released during the spring and a couple of variations of a longer film combining the single artists animations for a full length film that would be used online and on the out door screens in Kiruna and Luleå.
The main character was the bumblebee from last years commercial, but this time he was built of aluminium wire, balsa wood and felt. The backgrounds were built according to scale from wood, cardboard and hobby foam. Then everything was to be animated, at first in my parents basement, but the winter cold put an end to that and I moved in to the room I now keep as my tiny studio.
Martin Eriksson at TCB i Kiruna AB wrote the music wich perfectly captured the mood of a lazy summer day.
The Kiruna Festival poster
The assignment also included a new logotype for the festival and image materials and a layout proposal for the poster (which was finalized by Niklas Mattsson at Versal). You can see that work below: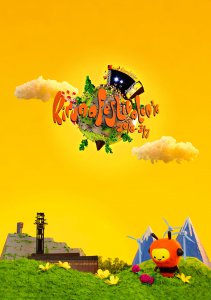 Year: 2016
Client: Kirunafestivalen
Category: Commissioned film